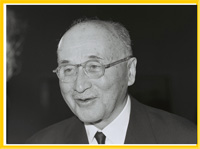 © Jean Monnet 15/06/1967 European Commission, 2009
18.05.2010
Ann-Christina L. Knudsen and Karen Gram-Skjoldager
Introduction:
Locating Europe. Narrating Ideas of Europe

Political lives fascinate many people. Political biography as an area of research is however both cherished and contested. While most political biographical research is framed by the national, and written for a national audience, new challenges arise when the historian is dealing with historical figures who act outside the national framework. Europe, as a battleground for ideas and political projects in the 20th Century, is a good example of this. The five original articles in this volume of Kontur are grouped under the title "Locating Europe. Narrating Ideas of Europe" as they aim to show new ways in which political biographical research can be presented.
Christoffer Kølvraa
Political Paternity and the Construction of Europe. The Founding Fathers and their function in the rhetoric about European Community

Although most often analysed as a rational and mechanistic set of political institutions, the official discourse of the EU reveals that the construction of Europe as a community also contains elements of a more affective nature. This article aims to show that certain persons in EU history has been elevated to serve as collective 'Father-figures'. By employing psychoanalytic theory this can be understood as an essential element in the dimension community-building which entails constructing a collective identity on moral and emotional grounds, and thus lies beyond the merely interest-based interaction of 'rational actors'.
Sara Lamberti Moneta
Hans-Dietrich Genscher: West Germany's "slippery man"

Hans-Dietrich Genscher – the Western world's longest serving Foreign Minister – has been a protagonist of European détente and a staunch advocate of human rights. A fresh look at the historical records of his biography in the period 1969 to 1975 challenges the traditional interpretation of the European history of human rights.
Laurent Warlouzet
Charles de Gaulle's Idea of Europe. The Lasting Legacy

Charles de Gaulle, the French President from 1959 to 1969, developed a very specific vision of Europe, which was applied boldly when he was in charge. His ideas have had a lasting legacy on many historians –and not only in France- who have adopted a "de Gaulle-centered" approach to the History of Europe in the 1960s.
Richard Brander
Hjalmar J. Procopé. Questioning and Reconciling Interpretations of European Integration History

Finland was very much absent from the early stages of Western European political integration after World War II. In the European Movement and in the Council of Europe, Finland was neither represented by her government or parliamentarians, nor by exiled émigré politicians like the countries behind the Iron Curtain. The only prominent Finn who took an active interest in European affairs was the former foreign minister Hjalmar J. Procopé.
Isabel Maria Freitas Valente
Calvet de Magalhães. New Eyes on Portugal and European Integration

This article reviews the activities of the high-ranking diplomat Calvet Magalhães's contribution to Portugal's European integration process. Based in a part of a PhD.- research project about "Portugal and the European integration" and investigates key ideas of Europe in the speeches of Calvet de Magalhães, and translate this into a reinvention of
Portugal's position.